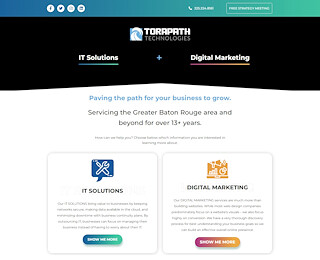 Baton Rouge Web design has become a booming industry as more and more businesses and sole proprietors endeavor to expand their presence online. Meaningful Web design at an affordable price can still be hard to come by. Unfortunately for consumers, Web design is a bit like the auto mechanic industry in that Web design is a specialty field that few have knowledge of but almost everybody needs. Therefore, there's lots of room for overcharging and selling services that people really don't need.
At Torapath Technologies, we pride ourselves on operating with the utmost integrity and transparency. As you search for Baton Rouge Web design services, be sure to ask each firm for a quote in writing. This way, you can show them to us, and Torapath Technologies guarantees that we will beat any quote you get!

How Much Does Professional Web Design Cost?
Avoid any company that tells you what their Web design services will cost prior to consulting with you. A good Web design company will not give you a quote until they have performed a website audit (if you have a current website) and discussed in detail all of your needs and goals pertaining to your website. No two client sites are exactly the same, and no two clients have the same needs! Therefore, it is honestly impossible to give a quote without an assessment and consultation first.
At Torapath Technologies, we customize all of our Web design services to the needs of our cherished clients. We can build your website's design using coding and programming languages. We can build you a site from the ground-up. We can build a WordPress website for you. We can also touch up, fix, and makeover existing websites that have design flaws.
What Can Great Web Design Do for Your Business?
Literally, your website's design will make or break your success online. Great Web design is a deal-maker, and poor Web design is a deal-breaker! When people come to your site, the first thing they're going to notice is how your site looks, feels, and functions. If it's not up to par, you will lose any website traffic you gain. When this happens, it's like double-whammy because, not only do you lose the visitors and lose the chance to convert them to new customers, but the search engine that sent the user to your website takes notice that the user left your site immediately after clicking your link. Then the search engines will drop your site in the rankings, causing irreprehensible SEO damage.
We Design High-Converting Optimized Websites
If you want affordable and comprehensive Baton Rouge Web design, choose the company that you know will give you the most bang for your buck. Torapath Technologies is a digital marketing firm that understands the crucial role that quality Web design plays in a company's success (or lack of it) online. Let us design a site for you that will make visitor conversion a breeze.
Torapath Technologies
2252248161
12056 Justice Ave., Baton Rouge, LA 70816
View Larger Map
We welcome your comments!