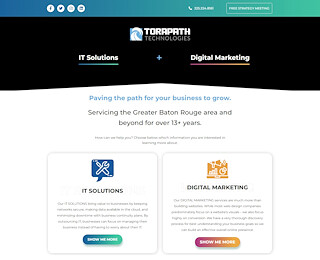 You have worked hard for a long time to build a great business! Your business adds value to the marketplace, it provides jobs for people, and it pays you a salary each year. As a successful small to medium-size business owner, you likely see opportunities to continue growing your business, selling more products, serving more customers, and hiring more people. You've got it all figured out, but there is just one thing that's stopping you - your information technology problems.
What you need to grow your business and reach the levels of success you envision is comprehensive software and better IT. As simple as this sounds, choosing, implementing, and managing technology can be a daunting task for anybody, even business owners who are IT savvy! IT management is a full-time job in and of itself. When you consider this weighty responsibility against all of your other needs and obligations; who has the time for IT!
Torapath Technologies is a Proactive Computer Consultant
You need an experienced computer consultant in Baton Rouge who can answer all of your IT questions and implement a solution that helps your business grow. Having a computer consultant is a viable solution to IT challenges for many small to medium-size businesses in Baton Rouge. Torapath Technologies helps business owners use technology to resolve business problems, operate more efficiently, save money, and gain a competitive advantage over other businesses within their marketplaces. How does it work? It's quite simple actually.
How Computer Consulting Works
First, we learn about your business. We'll schedule a time to sit down with you one-on-one to learn about your challenges, concerns, and opportunities. We'll get a sense of not only who you are and what you do, but we'll also learn about your business goals and figure out what kind of IT strategy it will take to help you get where you're going.
Next, we'll design and implement a customized IT solution designed specifically to address your needs, solve your problems, and help your business grow. Some business owners hire us and tell us basically to take care of all their "computer stuff" for and never to burden them with the details. We also have lots of clients who want to be informed and educated about everything and stay in the loop every step of the way.
Computer Consulting is an Investment
Once we've implemented a custom plan for you, we will continue to manage it all for a low fixed monthly rate that you can afford. In fact, you will come to think of our services as an investment that enables you to get the most out of your business. Choose Torapath Technologies to be your computer consultant.

Decide if Torapath is Right for You
If you are considering hiring a computer consultant in Baton Rouge, but you want to take your time to make sure you hire the right one, Torapath Technologies offers no-cost consultations where we can learn about you, and you can learn about us. Scheduling time for a free consultation is a great way for you to determine if Torapath is the right computer consultant for you or if you want to employ the services of another Baton Rouge computer consultant.
Computer Consultant Baton Rouge
Torapath Technologies
2252248161
12056 Justice Ave., Baton Rouge, LA 70816
View Larger Map
We welcome your comments!