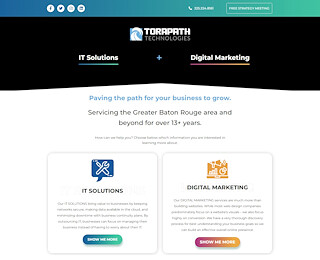 At Torapath Technologies, all of our values are streamlined at our client's best interests. Torapath is one of the best IT companies in Baton Rouge in terms of building relationships based on trust and mutual respect. When you cut through the fat, our job is to save our clients money with comprehensive managed IT services.
Torapath Technologies is a Great IT Company for Baton Rouge Businesses
When a local small to medium-size business calls us for a consultation, we look at their business and assess how we can apply technology to it and make their operations more efficient. The money that we save local companies can then be reinvested into our community and into their business to grow it. We'll stay with you as you grow, being your long-term strategic partner. Few IT companies in Baton Rouge can do what we do for our clients!
Torapath Technologies, which started off as Wireless I.Q. in 2007, has evolved into a leading Baton Rouge IT and system integration company. From education to implementation, Torapath Technologies has built a company culture to provide professional IT integration services. We help businesses and organizations achieve their IT goals in three meaningful ways:
1. IT staffing solutions
2. IT talent management
3. IT services
If you are tired of IT issues slowing down your business growth, contact one of the best IT companies in Baton Rouge - Torapath Technologies. We can quickly resolve your issues and provide you with a lasting IT solution that will make everyone in the office happy.
Be Careful Who You Hire
Unfortunately, the IT industry is still the Wild West. There are no rules or certification requirements for IT companies. This means that any Tom, Dick, or Harry can put up a website and call themselves "IT experts." Some of these people may even have sound technical skills, but technical skill is only part of the equation! Sadly, many IT companies in Baton Rouge don't have the capacity nor the required service experience to fill the needs of local businesses. Be careful who you hire!
Even may legitimate IT companies have non-transparent pricing schemes and often hit their clients with unexpected charges for the services their clients need the most. Torapath Technologies does everything for a low monthly flat rate.
Contact Us Today
IT support means technical competence and a professional attitude in addition to the necessary resources to get any job done. Nobody wants to work with a company that's unresponsive, late, or rude, even if they eventually solve the problem. Torapath Technologies is the IT company that's been delivering in-class IT services and support since 2007.
Not only can Torapath Technologies troubleshoot and fix any IT problems your business encounters, but we will also implement a proactive support system so small problems don't develop into downtime. We follow a defined process for everything we do. This way, issues are fixed right the first time. If you are interested in partnering with a professional, responsive, IT company in Baton Rouge with a proven track record and happy clients, begin your search with Torapath Technologies.
Torapath Technologies
2252248161
12056 Justice Ave., Baton Rouge, LA 70816
View Larger Map
We welcome your comments!