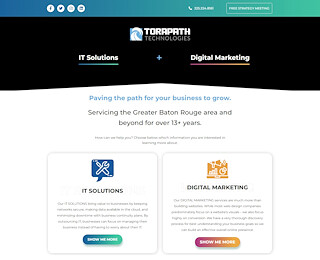 As a business owner, you may feel overwhelmed at times given the weight of your responsibilities. When you started your business, it was probably much easier to stay on top of everything. As a business grows, it feels like a dream come true, but more money usually means more problems. Sure, you know that business growth involves taking on more responsibilities, and you likely embrace the challenge. Now, you find yourself tasked with a slew of responsibilities, like IT, that are mind-boggling. This includes things like:
Database management
Business apps
Network security
Mobility
Computer support
Data backups
Help desk
Cloud
Indeed, from accounting to human resources and from sales marketing to operations, you've got a lot on your plate! Fortunately, there is a solution for business owners like you that can give your precious time and sanity back. The solution is IT consulting. When it comes to IT consulting in Baton Rouge, more people trust Torapath Technologies to take care of all of their IT needs. We invite you to call us for a no-cost, no-obligation consultation and quote. You'll discover why more of your neighbors choose us.
Leave the IT Stuff to Us
The last thing you want to add to your daily worry list is technology, so let Torapath Technology take care of your day-to-day information technology needs. We know that you need a reputed expert with the time and the knowledge to make sense of it all. We'll help you answer some important questions and move forward with a solution. Here are a few questions to consider in the meantime:
Do you need to move to the cloud?
Are your backups working properly?
Will hackers be able to break into your networks?
Should you upgrade your system to Windows 10?
You need someone on your team who can answer these questions - someone who understands information technology and can put the right strategic plan in place to help you succeed.
What to Expect from Us
Our goal is simple. We provide your business with the best IT solutions to maximize business outcomes. If you need an IT partner who can bring true value to your business, call Torapath Technologies today or send us an email. Torapath is a great choice for IT consulting in Baton Rouge. We'll sit down with you at no charge and see what makes sense for your business.
Choose Torapath
Torapath Technologies, once Wireless I.Q., is a trusted advisor coaching our clients on how to invest in a wide range of technology. Over the years, Torapath Technologies has evolved into a managed services provider. We primarily partner with small to medium-size businesses, helping them to get the most out of their IT security, server and network planning, backup, recovery, IT support, SEO, and even Web design to help our clients take their businesses to the next level.
If you think you might benefit from having a comprehensive IT partner on your business's side; if expert IT consulting in Baton Rouge can help you function at a higher level; consider the services of Torapath Technologies.
It Consulting Baton Rouge
Torapath Technologies
2252248161
12056 Justice Ave., Baton Rouge, LA 70816
View Larger Map
We welcome your comments!