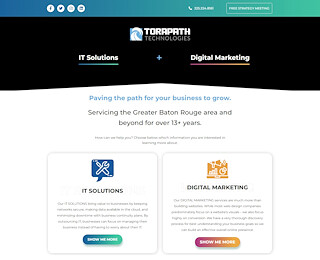 In a world where company concerns about infrastructure costs and where to house their data are running higher than ever, Torapath Technologies is the IT services solution in Baton Rouge that stands out from the pack. Here, we offer a comprehensive suite of helpful IT products ranging from IT help desk to IT staff training, Torapath Technologies is the number one choice for Baton Rouge small to medium-size businesses looking to take a proactive position regarding their IT infrastructure. 

What Does First-Class Technology Look Like?
Honestly, first-class technology looks pretty boring. In fact, it looks kind of nerdy. It looks like brainstorming, scribbling, coffee drinking, and problem-solving. This is what first-class technology looks like, and this is what Torapath Technologies does. Pretty boring, right? Yet, these nerdy, boring technology services are crucial to all businesses. Further, it is these very services that can turn IT headaches into reliable, understandable solutions!
Since 2007, Torapath Technologies (formerly Wireless I.Q.) has helped hundreds of small to medium-size Baton Rouge businesses increase productivity and efficiency. We can show you what technology looks like. We are Torapath Technologies, offering complete IT solutions unlike any other!
Trust is the Most Important Benefit to Partnering with Torapath Technologies

Torapath Technologies was built on a foundation of honesty, integrity, and strong relationships. We like to work with our clients for years. We help our clients with strategy assessments, project management, backup, security, and managed IT services in Baton Rouge. Further, we provide IT solutions for our Baton Rouge clients that are highly-customized, flexible, and cost-effective.
While it's easy to elaborate on all of the things we do and the many ways can benefit a client, Torapath Technologies believes that trust is the basis for every relationship. That is why everything we do revolves around the concept of building trust with our clients and within our community. Trustworthy managed service providers stand out within the IT community because IT seems to be a big mystery where all of the secrets somehow hide in the IT closet. Our goal at Torapath technologies is to provide excellent and transparent IT services in Baton Rouge that help our clients understand all of those secrets and how they can benefit their business.
Contact Torapath for a No-Cost Consultation
With Torapath Technologies, you will always have a dedicated account manager and world-class engineers that will make sure the process runs smoothly for your company. Our clients get no fuss and no tough learning curve - just secure infrastructure. Free your mind and your time, and let an expert IT services company like Torapath Technologies take care of your technology needs and challenges for you.
Torapath Technologies offers a full suite of managed IT services and solutions in Baton Rouge that can bring value to an operation and solve your technology challenges. Our IT services translate into efficiency and peace of mind, which are an ideal enhancement for a company's growth.
It Services Baton Rouge
Torapath Technologies
2252248161
12056 Justice Ave., Baton Rouge, LA 70816
View Larger Map
We welcome your comments!