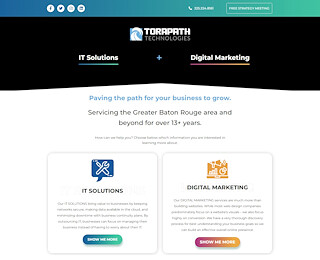 The term 'managed services' is being tossed around a lot lately. Why is that? Has it become a loosely-defined all-inclusive phrase? What exactly is it? This are important questions to ask because everybody who uses the phrase 'managed services' may not have the same ideas in mind.
Usually, the definition given for 'managed services' is only part of its entire meaning. Torapath Technologies is a comprehensive managed service provider, and we want you to know what 'managed services' really means. With that said, allow Torapath technologies to explain what 'managed services' looks like to us.
What Managed Services Means to Torapath Technologies
Torapath Technologies is a managed service provider in Baton Rouge for small to medium-size businesses. Whether you make soap, cakes, banners, or anything else, you will have specific technology needs. You need suppliers, employees, and customers communicating. You need to protect proprietary information. You may even need an eCommerce solution. Typically, you would hire IT staff to help you buy, lease, build, and manage what you need. But technology has become much more expensive and complex. So there's more for your staff to manage.
The good news is that they don't have to! Torapath Technologies can handle your needs to free up your most precious asset, your time, enabling you to focus solely on running and growing your business. We let you do just that by meeting all of your technology and communication needs for you. As you managed service provider in Baton Rouge (MSP), we'll do it all for a monthly fee that you can afford. That's what managed services is all about.
What Your Managed Services Include
We are system integrators that provide permanent IT solutions. Torapath Technologies utilizes a proactive approach to managed services rather than a reactionary one. Your managed services might include network and communication-based services related to WAN or LAN infrastructure, computer-based services related to desktop or enterprise computing infrastructure, or application-based services related to user or enterprise applications or associated business processes.
Partner with the Industry's Best Managed Service Provider
Having a knowledgeable and qualified IT specialist on your team who knows your system like the back of their hands will prove to be an invaluable partnership in the long-run. It's not a matter of if you will need a managed service provider; it's a matter of when! Don't wait until it's too late to find one!
Torapath is Here to Help
Torapath Technologies employs highly skilled experts who will monitor and manage your solution remotely from a network operations center (NOC). Any necessary troubleshooting, moves, additions, changes, updates, or upgrades can also be handled from the NOC, depending on the level of service you want. 
Maybe you're thinking, "I don't want to give up control." Well, you don't have to! With managed services from Torapath Technologies, you can manage most or some of your solution. If you are looking for a managed service provider in Baton Rouge, give Torapath Technologies a call. We'll be glad to help.
Managed Service Provider Baton Rouge
Torapath Technologies
2252248161
12056 Justice Ave., Baton Rouge, LA 70816
View Larger Map
We welcome your comments!