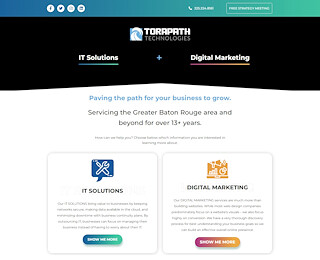 Even though there is more competition online, there has never been a better time for SEO! Torapath Technologies specializes in Web design, IT management, and SEO in Baton Rouge. More people in Louisiana are choosing us to implement their SEO campaigns on their behalf as Torapath Technologies gets the job done! We are a results-driven, money-where-the-mouth-is digital marketing team dedicated to helping our clients achieve success online.
Why Do We Say that Now is the Best Time Ever for SEO?
Over the years, Google, Bing, and Yahoo have adjusted their search engine algorithms tremendously. In fact, you may have heard people complain that the search engines keep changing. This is done to stop search engine manipulation and to give search engine users better results for their search engine queries. Today, search engines do an excellent job of keeping out SPAM and bad content. By creating excellent content and doing only a few things right, you can rank your content high in the search engine results even if you are in a competitive niche or industry.
Say Goodbye to Yoast
One of the cool things about Torapath Technologies is that we offer both Web design and SEO services. The two go hand-in-hand. When approved by the client, we like to use WordPress websites. If you are familiar with WordPress, then you might already know about plugins. Yoast is a popular SEO plugin used on WordPress, but we find that with the new changes in Google's search engine algorithm, Yoast actually does more harm than good. Consider using All-in-One SEO plugin instead. This is just an opinion. We don't gain anything if you use this plugin.
Seven Things that Will Poison Your SEO Efforts
Torapath Technologies prides ourselves on being honest with our clients even when what we tell them is not what they want to hear! With that said, there are seven things that are poison to your SEO endeavors, and you should avoid these at all cost:
1. Having malware on your website
2. Having no SSL security on your website
3. Having a website that's difficult to navigate
4. Having a site that's non-responsive or not mobile-friendly
5. Having excessive broken links on your site
6. Having copywritten or plagiarized content on your site (written or picture)
7. Having over-monetization on your site
There aren't a lot of companies that do SEO in Baton Rouge who are going to tell you this! There are other things that can kill your site too, things like not using relevant images with content, overstated keywords, and block text or poor typography. All of these things can harm your SEO efforts and lead to irreversible damage.
Learn More from Baton Rouge's SEO Experts
If you are interested in partnering with a company that does SEO in Baton Rouge the right way, you're in the right place now! We can help you take your online business to the next level, whether you have a blog you want to monetize or an eCommerce store that needs more customers. Call us or send us an email at your earliest convenience.
SEO Baton Rouge
Torapath Technologies
2252248161
12056 Justice Ave., Baton Rouge, LA 70816
View Larger Map
We welcome your comments!