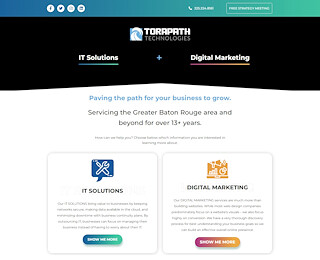 Torapath Technologies is a local Web design company in Baton Rouge. Our client base is mostly local, which makes Torapath Technologies a top choice for optimized Web design in Louisiana. We understand local markets and demographics, and we help our clients develop and design websites that appeal to their specific target audiences. Whether your site is built on a small niche or a large market, having a local Web design company that understands your needs can make your site stand out from your competitors'.
Poorly Designed Websites Hurt Businesses
Web design and Web development can make or break your success on the Web. Failure due to a poor Web design can manifest itself primarily in three ways online:
1. New startups get no traffic or sales online and never get off the ground
2. Established businesses struggle to grow or generate new leads
3. Established websites experience a decline in site traffic and conversions
It's amazing how often people focus on marketing but forget to have a product that's worth marketing! Your Web design dictates the look and feel of your website. This is one of the reasons why having a local Web design firm on your team is vital to long-term success. Your website should reflect who you are and what you do. It should be clean, functional, and easy to navigate. Pages should load quickly, and your site should be responsive so that people can view it and use on any device.
If you are experiencing any of these problems, or if you're just getting started and want to avoid these problems altogether, contact Torapath Technologies today. A Baton Rouge individual or firm seeking to do business online should have a Web design company in Baton Rouge that understands how to get you where you are going.
We Offer Optimized Web Design
Another advantage of partnering with Torapath Technologies is that we offer SEO in addition to Web design. This means two things that can be beneficial to you:
1. We design websites that are optimized and SEO-friendly
2. We can design your site and provide ongoing SEO services so that people find it
By choosing us to manage your Web design and SEO campaigns in Baton Rouge, you will save money than if were to hire two separate firms to do each task. You'll be able to hit the ground running with a site that's designed to compliment further marketing efforts. You'll have the convenience of having one service provider for SEO and Web design.
Let Us Help
Contact Torapath Technologies today to get the ball rolling on your site. We'll talk to you, understand your purpose and goals for being online, and design a stunning website for your blog or eCommerce store. We will discuss all of our packages and connect you with the products that will best serve your individual needs. You'll be glad to have a partner that can help you connect with local markets and help you grow into state, national, or international markets.
Web Design Company Baton Rouge
Torapath Technologies
2252248161
12056 Justice Ave., Baton Rouge, LA 70816
View Larger Map
We welcome your comments!